The other day, I bought a new T-shirt.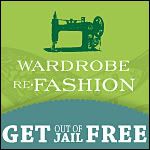 Not only did I break my pledge, it didn't even fit very well, See?
Fortunately, I have developed a t-shirt cosmetic surgery procedure.
I have now performed this surgery multiple times--even on cashmere--and my success rate is very high. You will even be able to leave the house in your re-stitched shirt within MINUTES of finishing the procedure! 
Since I'm not all that curvy, I'm guessing this situation must be even worse for most women. If you want to learn the secrets on re-stitching a too-big, boxy T-Shirt to fit without sagging, head over here.